Iconic Design Inspired by Time
Discover our Cushion Collection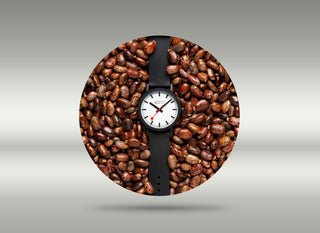 essence
The essence collection combines innovation and sustainability. It reinterprets the iconic design of the Mondaine Swiss Railways watch and uses predominantly renewable raw materials such as castor oil, wool and cork. The watches in this collection are probably the most sustainable watches in the world.
We believe we can make a difference
#wecare
At Mondaine, we believe that sustainability is a matter of respect for our planet, our customers, our partners and future generations. Mondaine is one of the first fully carbon neutral watches and brands in the world.
For more than 60 years we have strived to always be better according to the 3Rs: reduce, recycle and reuse.
LARGER THAN EVER
BAUHAUS. MODERN. FLUID
The evo2 watch collection has a seamless organic shape with flowing lines that offer maximum comfort on the wrist. As an evolution and progression of the original design, the evo2 embodies minimalism, quality and traditional Swiss craftsmanship.
PRICE MATCH GUARANTEE BUY DIRECTLY FROM US
2 YEAR WARRANTY AUTOMATICALLY ACTIVATED
14 DAY RETURN POLICY EASY RETURNS